How to claim train delay and cancellation compensation
Claiming compensation for those extremely annoying delays or cancellations can seem like a chore and lots of people don't bother. In fact, two-thirds of passengers don't claim for their train delays. That's a lot of money people are missing out on.
Trust us, it's worth making those claims. Andy Young travels from his home in Hertfordshire to London's City Thameslink every day and he makes between £230 and £330 each year in compensation. Similarly, Tom Burridge claimed over £1k compensation in train vouchers: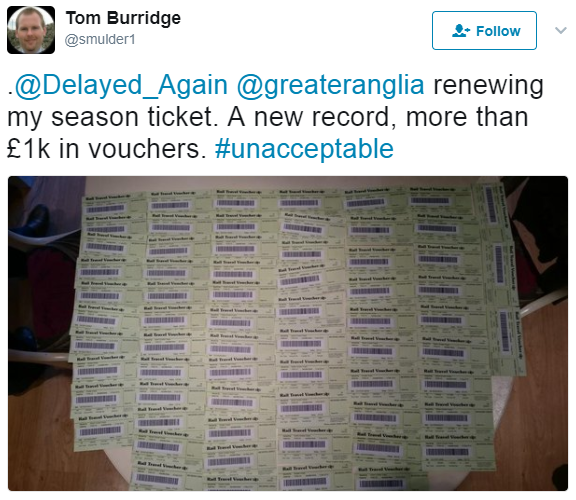 Our guide to claiming train delay and cancellation compensation
Make a note of the delayed or cancelled train details:

If delayed, how many minutes was it delayed
The journey date
The reason it was delayed or cancelled (if it was announced)
The train company in question
The station you were travelling to and from
What type of ticket you had (single, return, season ticket etc.)
Finally, hold on to your train tickets or booking reference as you'll need them as proof
If you don't remember the length of the delay, then take a look at the Recent Train Times website. You just need to add in the train stations you were travelling between and the dates and it will tell you the actual arrival times.
Most train companies have a time limit of 28 days from the delayed or cancelled journey so apply as soon as you can.
Use our table below to get the link to the relevant delay repay page. Or, visit National Rail's list of train companies.
Once you've navigated your way to the compensation form, fill out the details you made a note of and upload your train tickets. You can apply for compensation via post, the delay repay page should contain the postage address you'll need to send the compensation form to.
You'll be asked how you wish to be compensated. Most train companies will offer repayment by cheque, bank transfer or travel vouchers.
It's important to note that each train company has a slightly different repay policy. And so you don't have to trawl through their website looking for it, we've created a go-to list of minimum delay times in order for you to receive compensation, the amount you could be refunded for a single journey and links to each company's delay repay page.
Don't let the train companies hold on to your compensation. Follow our guide, use the links below and get back your cash!
| | | |
| --- | --- | --- |
| Link to train company's delay repay page | Minimum delay time for compensation | Amount you could be refunded on a single journey |
| Arriva | 30 minutes | Delayed 30-59 mins? 50% of ticket price. More than 60 mins? 100%. |
| C2C | 30 minutes | Delayed 30-59 mins? 50% of ticket price. More than 60 mins? 100%. |
| Caledonian Sleeper | 30 minutes | Delayed 30-59 mins? 50% of ticket price. More than 60 mins? 100%. |
| Chiltern Railways | 30 minutes | Delayed 30-59 mins? 50% of ticket price. More than 60 mins? 100%. |
| Cross Country | 30 minutes | Delayed 30-59 mins? 50% of ticket price. More than 60 mins? 100%. |
| East Midlands Trains | 30 minutes | Delayed 30-59 mins? 50% of ticket price. More than 60 mins? 100%. |
| Gatwick Express | 15 minutes | Delayed 15-29 mins? 25% of the ticket price. Delayed 30-59 mins? 50% of the ticket price. Delayed 60-119 mins? 100%. |
| Grand Central | 60 minutes | Delayed 60-120 mins? 50% of the fare back. 120-180 mins? 75% back. More than 180 mins? 100%. |
| Great Northern | 15 minutes | Delayed 15-29 mins? 25% of the ticket price. Delayed 30-59 mins? 50% of the ticket price. Delayed 60-119 mins? 100%. |
| Great Western Railway – High Speed | 60 minutes | Delayed 60-119 mins? 100% of the fare back. |
| Great Western Railway – London & Thames Valley | 30 minutes | You get 50% of the fare back if you're delayed by more than 30 minutes (on journeys of less than an hour) or if you're delayed by an hour or more (if your journey is an hour or more). |
| Great Western Railway – South Coast | 60 minutes | Delayed 60-119 mins? You'll get 50% of the fare back. More than 120 mins? 100%. |
| Greater Anglia | 30 minutes | Delayed 30-59 mins? 50% of ticket price. More than 60 mins? 100%. |
| Hull Trains | 30 minutes | Delayed 30-59 mins? 50% of ticket price. More than 60 mins? 100%. |
| London Midland | 30 minutes | Delayed 30-59 mins? 50% of ticket price. More than 60 mins? 100%. |
| Merseyrail | 30 minutes | Delayed more than 30 mins? 100% of your fare back. |
| Northern | 30 minutes | Delayed 30-59 mins? 50% of your fare back or one free single ticket to anywhere on the network. 60+ mins? You'll get 100% back or two single tickets. |
| ScotRail | 30 minutes | Delayed 30-59 mins? 50% of ticket price. More than 60 mins? 100%. |
| South West Trains | 60 minutes | Delayed more than 60 mins? 100% of your fare back. |
| Southeastern | 30 minutes | Delayed 30-59 mins? 50% of ticket price. More than 60 mins? 100%. |
| Southern | 15 minutes | Delayed 15-29 mins? 25% of the fare. 30-59 mins? 50% of the fare paid. More than 60 mins? 100%. |
| Stansted Express | 30 minutes | Delayed 30-59 mins? 50% of ticket price. More than 60 mins? 100%. |
| Transport for London | 30 minutes | Delayed more than 30 mins? You'll get a refund for a single journey. More than 60 minutes? 50% of the fare (if higher than the single journey refund). |
| ThamesLink | 15 minutes | Delayed 15-29 mins? 25% of the ticket price. Delayed 30-59 mins? 50% of the ticket price. Delayed 60-119 mins? 100%. |
| Transpennine Express | 30 minutes | Delayed 30-59 mins? 50% of ticket price. More than 60 mins? 100%. |
| Virgin Trains | 30 minutes | Delayed 30-59 mins? 50% of ticket price. More than 60 mins? 100%. |
| Virgin Trains East Coast | 30 minutes | Delayed 30-59 mins? 50% of ticket price. More than 60 mins? 100%. |